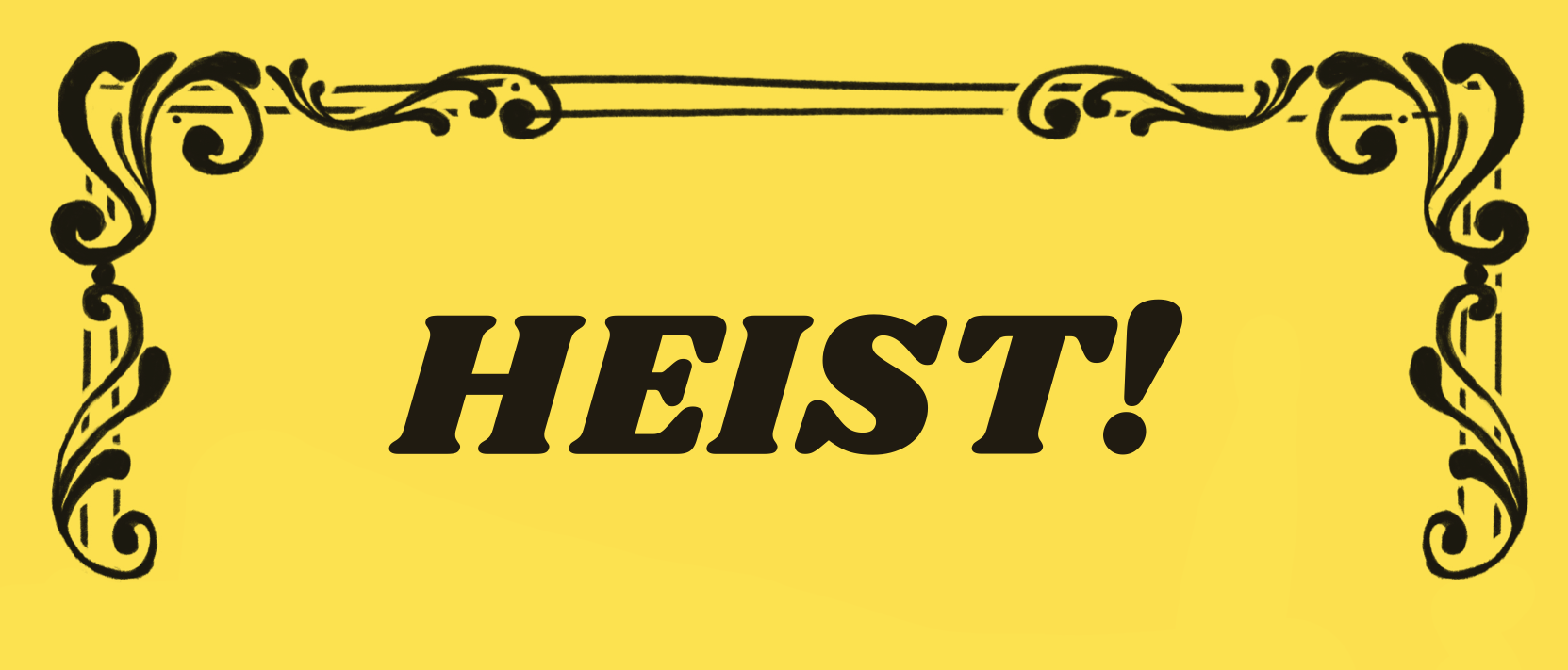 HEIST!
It's a quiet Wednesday afternoon so you decide to pull off a heist. What fun! You and your best pals Ernie and Gil are in the process of running away with riches. There's a lot of things that can go wrong until you get back safely to your house - and they probably will. (Chances are you'll probably lose most of the loot)

You and your getaway vehicle must travel the long roads with your riches (or what's left of them) and avoid being captured by the guards. Along the way, you may stop at weird tourist attractions, bribe the guards, and be affected by the local council's budget cuts.
You'll need a six and twelve sided dice as well as a map (provided) to play. There are a guard and player tokens at the back of the zine to cut out and assemble for the map.
Can be played solo or with two players, one plays as the heisters and the other plays as the guards.

The Game
HEIST! is a print & play boardgame roadtrip getaway. You move your token around the map and try to avoid guards while visiting towns and attractions.
Includes:
17 towns with their own unique prompts
Tokens to print and cut out
Options for solo or two players
A map
Game card to record each game
Physical versions available here
Purchase
In order to download this game you must purchase it at or above the minimum price of $3 USD. You will get access to the following files:
HEIST! game card solo play.pdf
1 MB
HEIST Game Card 2 player.pdf
1 MB
Comments
Log in with itch.io to leave a comment.
Shame I can't get a print copy in the UK, but looking forward to seeing it.
I unfortunately can't send things to the UK due to confusing tax things, however I'll put the zine up in my etsy shop once I've completed the itch funding orders as etsy thankfully handles all the tax things for me!
Hi there - I'm in New Zealand, so to get a physical zone do I select ROW or (like Russell Crowe) can I pretend I'm actually an Aussie?
Shipping to NZ is $9 which is cheaper than shipping to the US so it's in the middle between Aus shipping and the international shipping. So you can select the Aussie tier and add a few extra dollars to cover the shipping?
Hi Ella
Me and my friend Charlie in the UK have hopefully put you over the $250 you needed to fund this. looking forward to the new zine.
Regards

Graham

(Lighthouse Keeper in the Procyon Sector)


Whoo hoo, thanks for your support Graham!
Hi Ella
Just downloaded my copy this morning, looking forward to playing it at the weekend. Meeting up with Charlie at the UKGE in two weeks and will be definitely be having a game or two.
Many thanks
Graham
(Lighthouse Keeper in the Procyon Sector)